Chicken Avocado Chopped Salad
Yum
This Chicken Avocado Chopped Salad makes a delicious and filling meal all its own.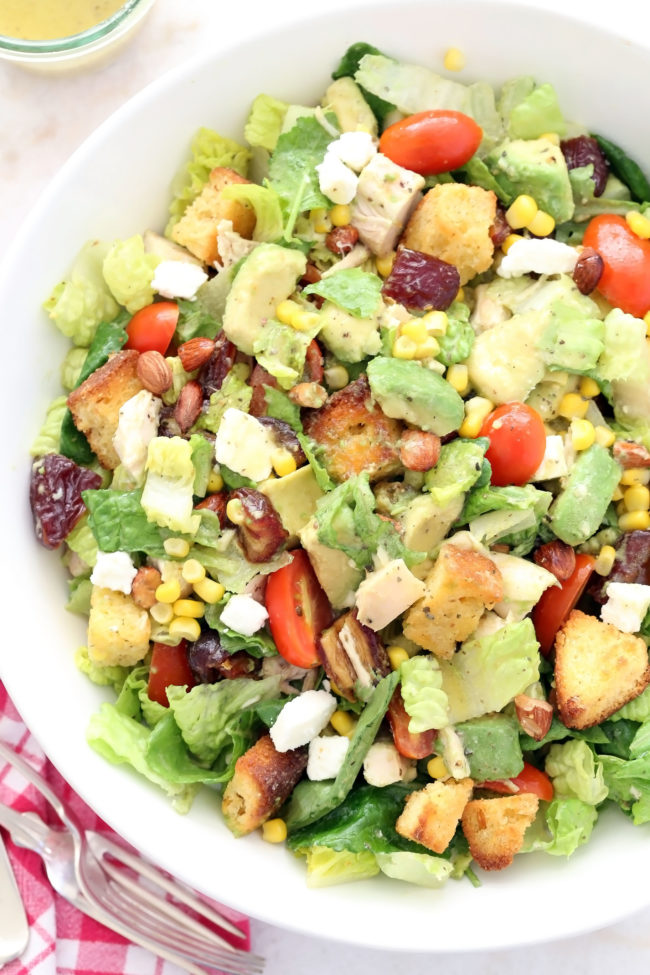 This Chicken Avocado Chopped Salad is one of my family's favorites.  It's loaded with chopped chicken (use store-bought rotisserie for convenience),  avocado, yellow corn (fresh or frozen), cornbread croutons, dates, almonds, tomatoes and goat cheese (which is totally optional).  The whole deal is tossed in a delicious perky lite Lemon Mustard Vinaigrette.  Salads don't get any better than this!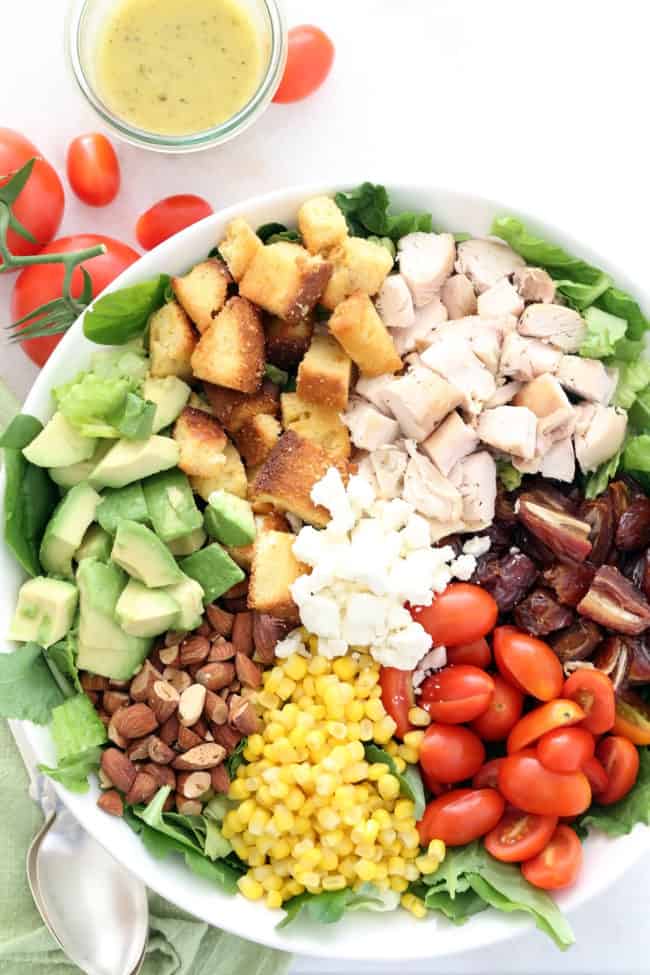 The ingredients for this chopped salad recipe are similar to the ingredients in the Macho Salad served at Banderas Restaurant in Corona del Mar.  The dates add a hint of sweetness, but it's the chewy texture that I really love in this healthy chopped salad.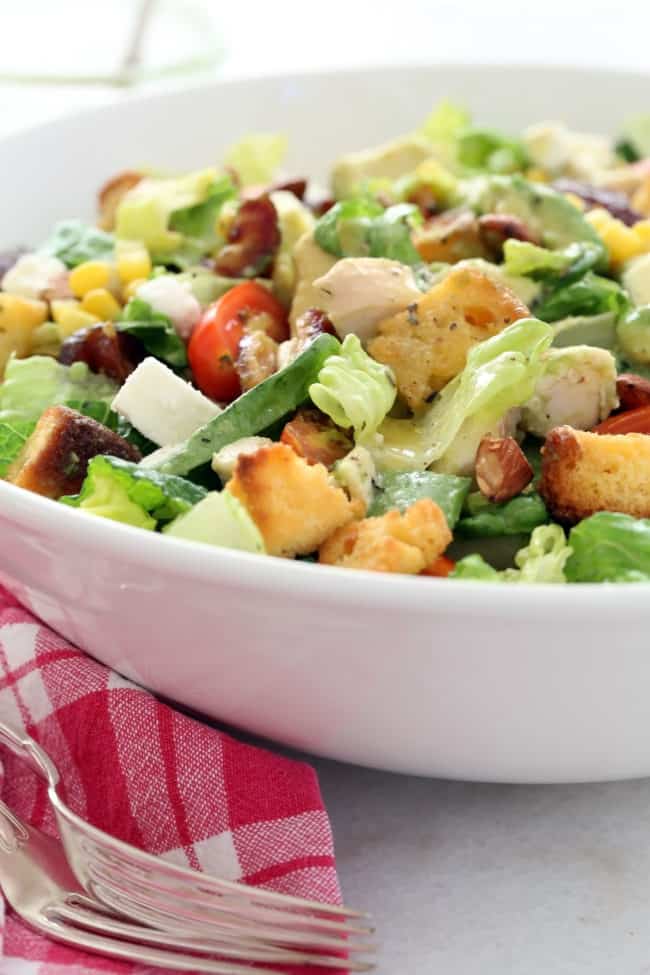 To be perfectly honest….I don't always make the cornbread croutons when I make this salad (mostly not), because it takes more effort than I care to make. I prefer to serve this chopped chicken salad with garlic-parmesan crostini….which in my opinion is very much so worth the effort to make.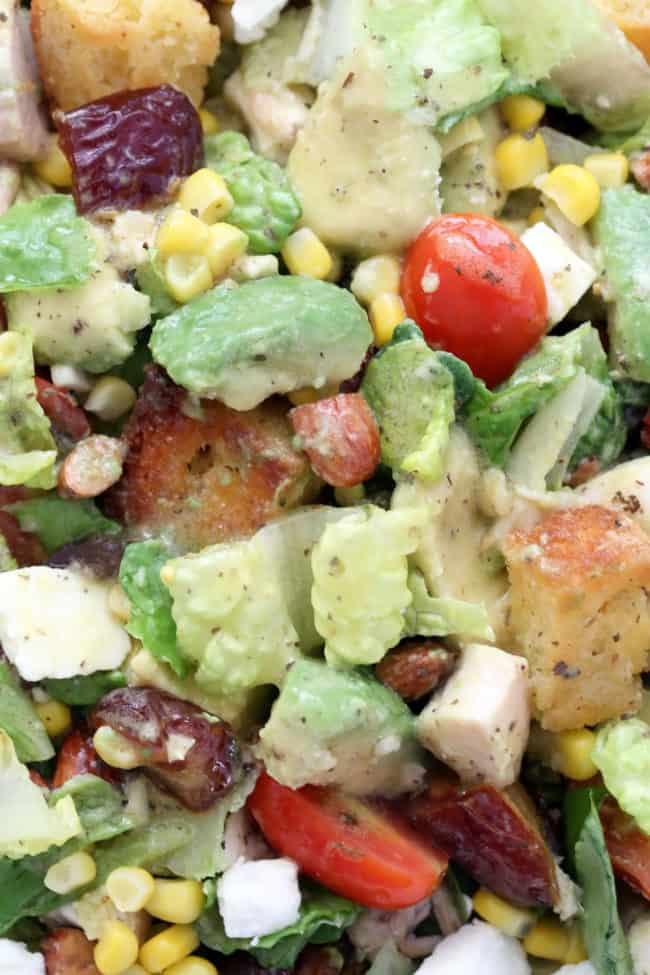 I use this Lemon Mustard Vinaigrette  for this salad.  It has a delicate creamy texture which lightly coats the ingredients of the salad.
REMEMBER TO SUBSCRIBE TO THE HARVEST KITCHEN NEWSLETTER AND RECEIVE NEW RECIPES RIGHT TO YOUR INBOX.
FOLLOW THE HARVEST KITCHEN ON FACEBOOK | INSTAGRAM | PINTEREST FOR THE LATEST RECIPES AND NUTRITION CONTENT.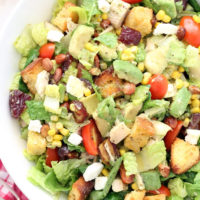 Chicken Avocado Chopped Salad
Yield: 4 - 6 Servings
Total Time: 30 minutes
Ingredients:
For the Salad
3 cups Romaine Lettuce, Chopped
3 cups mixed spring greens
1-½ pound chicken breast, chopped or shredded (store bought rotisserie chicken is fine)
1 avocado, chopped
1/4 cup goat cheese, crumbled
2 whole large Roma tomatoes, coarsely chopped
½ cup toasted almonds, coarsely chopped
1 cup cooked corn (either cut from the cob or frozen)
1 cup dates (about 12-14 whole dates, sliced
1 cup cornbread croutons
For the Vinaigrette
1-1/2 tablespoons Dijon mustard
1/4 cup freshly squeezed lemon juice
1 teaspoon apple cider vinegar
2 teaspoons honey or pure maple syrup
2 small cloves garlic, finely minced
1/2 teaspoon dried oregano
1/4 teaspoon dried basil
3/4 cup extra virgin olive oil
1/2 teaspoons kosher salt
1/4 teaspoon freshly ground black pepper
Directions:
For the Salad
Add all of the salad ingredients in a large mixing bowl.
Lightly toss with just enough vinaigrette to coat.
For the Vinaigrette
Add all of the ingredients (except the salt and pepper) to a mason jar. Seal the lid tightly and give a good shake. You can also add the ingredients to a blender and blend until creamy. Or simply whisk all of the ingredients together in a bowl.
Season with salt and freshly ground black pepper to taste.
For the Cornbread Croutons
Make a batch of cornbread from a mix (I use Marie Calendars).
Cube the cooled corn bread and place in a large bowl.
Lightly sprinkle with salt and freshly ground pepper.
Drizzle olive oil over the bread cubes and toss well so the bread cubes are lightly and evenly coated.
Spread bread cubes evenly on a cookie sheet and bake at 375 degrees for 7-10 minutes until golden brown and crispy.
Leave a Comment