Cheesy Quinoa Broccoli Patties
Yum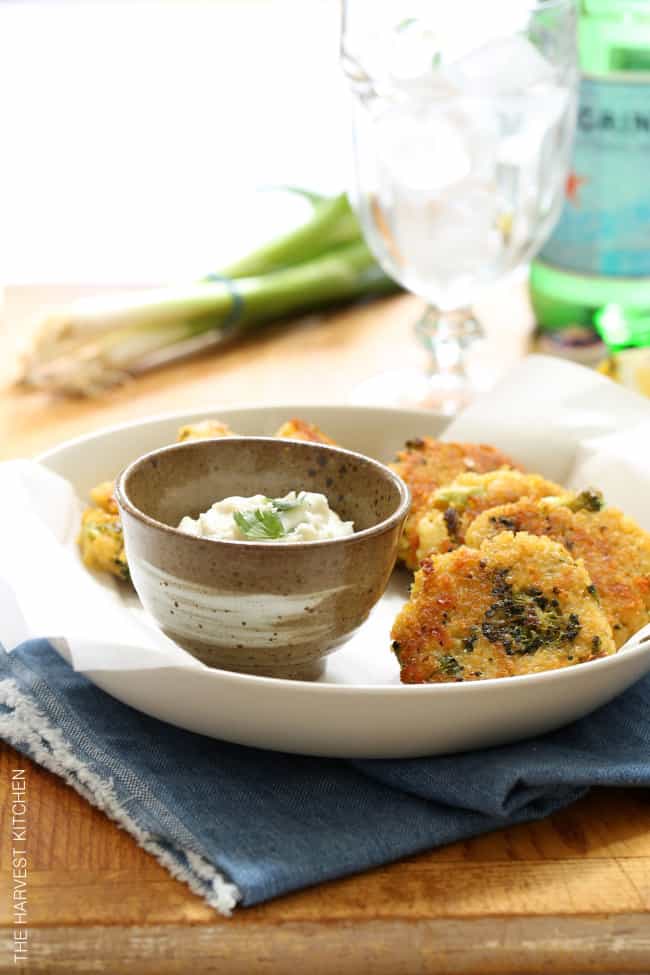 If you like quinoa…you're going to want to have these Cheesy Quinoa Broccoli Patties in your life!  I serve them with an amazing Roasted Garlic Dip which takes these patties over the top!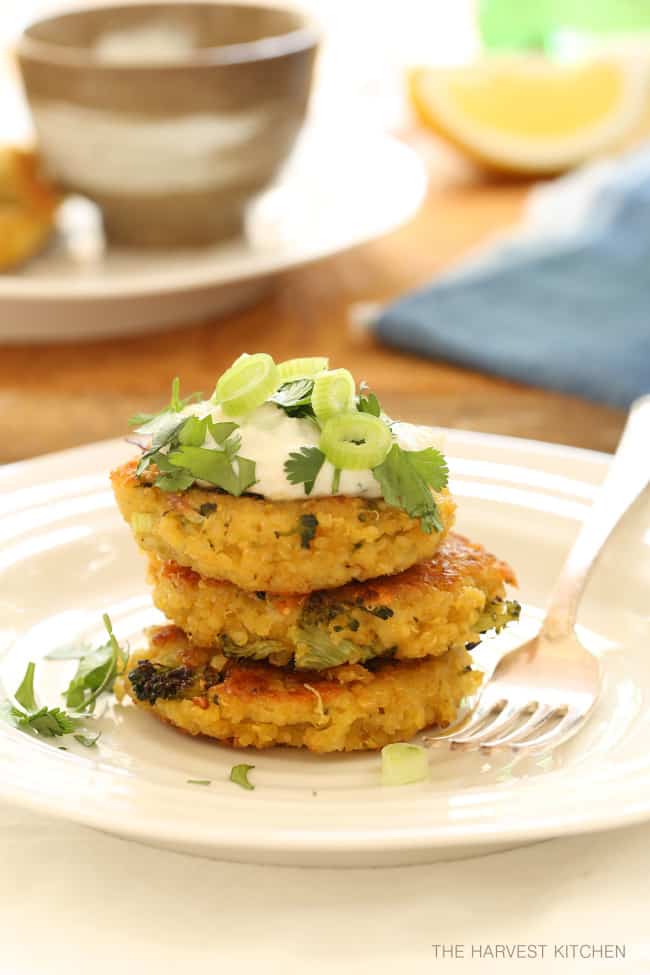 An entire head of roasted garlic is smashed into and blended with Greek yogurt (though you could use real mayonnaise or sour cream if you prefer), then you sprinkle in some chopped green onion, cilantro, salt and pepper.   Let this beautiful concoction sit in the fridge for about an hour, and I swear you'll want to bathe in it!  There's nothing better than a good dip, is there!?  The cool thing about this one…is it's healthy (if you go with the Greek yogurt that is), so you can eat all you want without an ounce of harsh reality.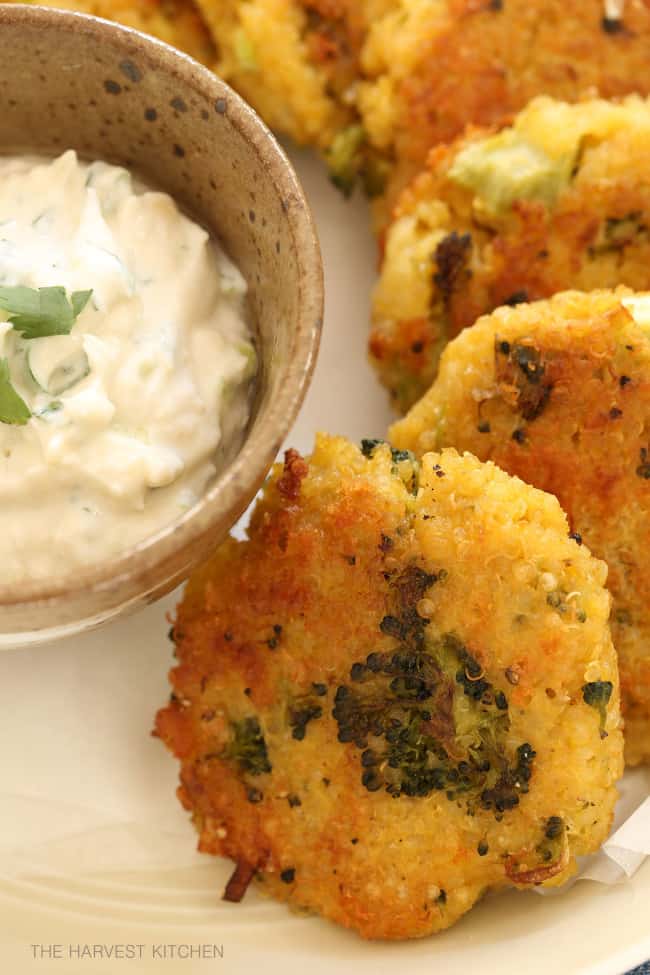 The best part about these patties – the quinoa is mixed with Fontina cheese and broccoli which give them a great combo of flavors.  They're lightly crispy on the outside and tender and and a little cheesy on the inside, and I just love the chunks and wee bit of flecks of broccoli.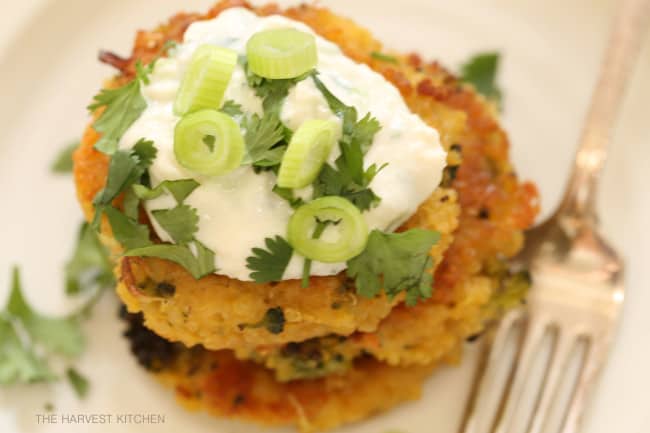 A little pointer about making quinoa…most of the time when I make quinoa, I'll sauté about half of an onion (minced) in about a tablespoon of extra virgin olive in a pot before adding the quinoa.  I also often times cook the quinoa with a mix of both water and either vegetable broth or chicken broth, and then season the mix with a pinch of each onion powder and garlic powder to give the quinoa some added flavor.
If you're interested,  you can read more here about the benefits of quinoa.
These Cheesy Quinoa Broccoli Patties make a nice light meal on their own served with a lovely green salad, but I think they're best served as a fun appetizer for a crowd!
~ Deb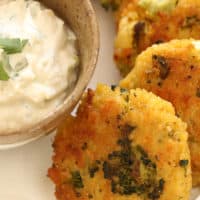 Cheesy Quinoa Broccoli Patties
Yield: 8 patties
Total Time: 30 minutes
Ingredients:
Cheesy Quinoa Broccoli Patties
2 cups cooked quinoa
1 cup organic broccoli, cut into small pieces
2/3 cup Fontina cheese
2 green onions, sliced thin
1 free-range brown egg, lightly beaten
3 tablespoons brown rice flour (or all-purpose gluten-free flour)
2-3 tablespoons extra-virgin olive oil
pinch of sea salt and freshly ground black pepper
For the Roasted Garlic Dip
3/4 cup Greek yogurt
1 head roasted garlic
1 green onion, minced (white and light green parts only)
1 tablespoon fresh cilantro, chopped
Directions:
Cheesy Quinoa Broccoli Patties
Preheat oven to 350 degrees.
Follow the directions on the package.  As the quinoa finishes cooking, turn off the heat and add the chopped broccoli to the top of the quinoa.  Place the lid back on the pot.  Let the broccoli steam cook until the quinoa cools completely.
In a large mixing bowl, add the cooked quinoa, broccoli, fontina cheese, green onions, brown rice flour, egg, salt and pepper.  Using a fork or spatula, lightly mix the ingredients.
Over medium-low heat, pour oil into a large skillet.
Using 1/4 cup measuring cup, scoop the quinoa mixture into your hands and form into patties.  Slightly flatten.
Cook quinoa cakes for about 5 minutes on each side.
Transfer to a cookie sheet.
Repeat with the remaining patties until all of the cakes have been cooked.
Transfer the quinoa patties to the oven and bake for 7 - 10 minutes until the patties are golden on the outside and heated through.
Roasted Garlic Dip
In a small bowl add the yogurt, roasted garlic cloves, onion and cilantro.
Using a fork or wooden spoon, blend until well incorporated.
Season with sea salt and pepper to taste.
Refrigerate up to 1 hour to enhance the flavor.
Leave a Comment