Carrot Smoothie
Yum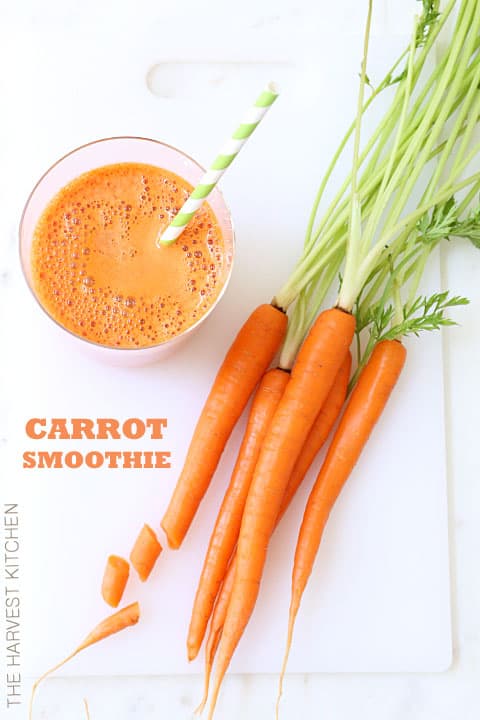 Here's a word association for you.  Carrots.  What do you think of when you hear the word carrots?  Rabbits!?  And eyes!  Right?  We all know that carrots are loaded with vitamins (Vitamin A and Beta Carotene) that promote good vision.  But antioxidant rich carrots also offer cardio protection and  anti-cancer benefits.   Now… let's throw in the benefits of hemp milk (or your favorite nut milk), some frozen bananas, and a wee bit of fresh ginger – and you've got yourself a very tasty Carrot Smoothie that packs a powerful nutritional punch! 
According to  Whole Foods Market, researchers at the Jules Stein Institute at the University of California at Los Angeles determined that women who consume carrots at least twice per week (compared to women who consume carrots less than once per week) have significantly lower rates of glaucoma.  Glaucoma is a disease that causes damage to the optic nerve often associated with excessive pressure inside the eye, and it's one of the leading causes of blindness.
Another less well-known benefit of consuming carrots on a regular basis – is that carrots can increase protection from sun damage caused by UV radiation and sunburn.  So, if you're catching a fair amount of rays this summer – stock up on some carrots and do some damage control.
~ Deb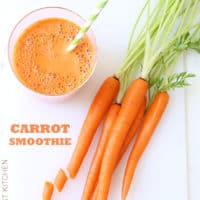 Carrot Smoothie
Yield: 1 - 2 servings
Total Time: 10 minutes
Ingredients:
1 cup freshly squeezed carrot juice
1-ince piece of fresh ginger, peeled (run through the juicer with the carrots)
1 cup Hemp milk (or your favorite nut milk)
2 cups frozen banana slices
1/4 teaspoon ground cinnamon
Directions:
Place the freshly squeezed carrot ginger juice in a blender.
Add the hemp milk, bananas and cinnamon.
Blend until smooth.
Leave a Comment