Blueberry Pineapple Smoothie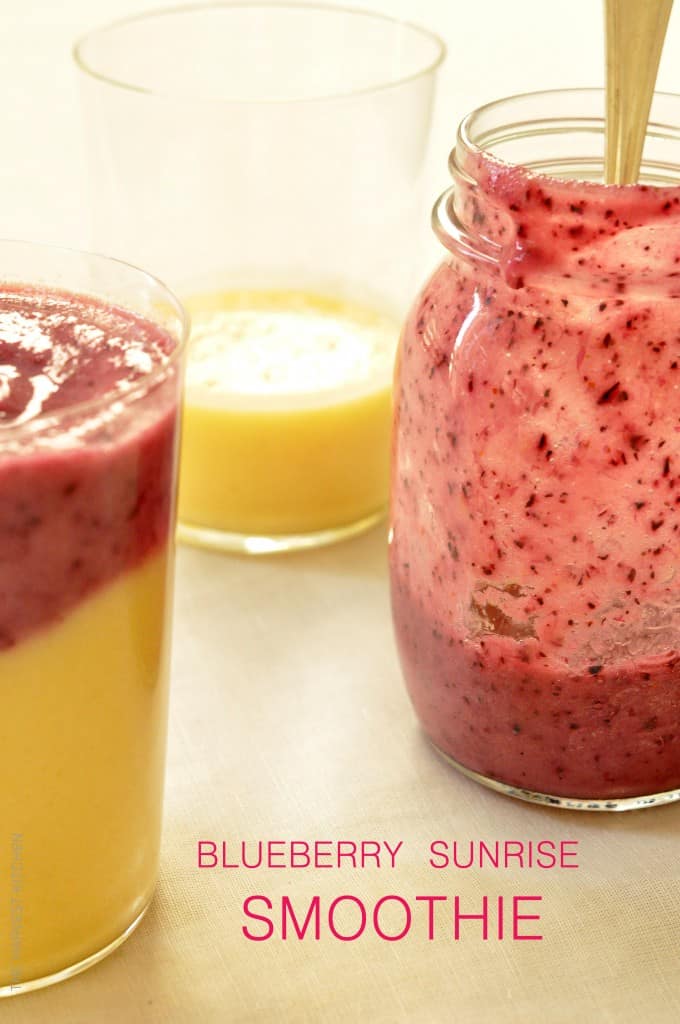 [1]
Here's my first "Sunday Smoothies" post!!
This Blueberry Pineapple Smoothie is really just a luscious tropical smoothie blended in two parts.  The first part is all pineapple, mango and banana, and the second part adds some blueberries to the pineapple mixture to give you this fun two dimensional smoothie.  The blueberry part is carefully poured over the back of a spoon onto the pineapple mixture so it just sits there on top rather than sinking into, and blending with, the rest of the pineapple mixture.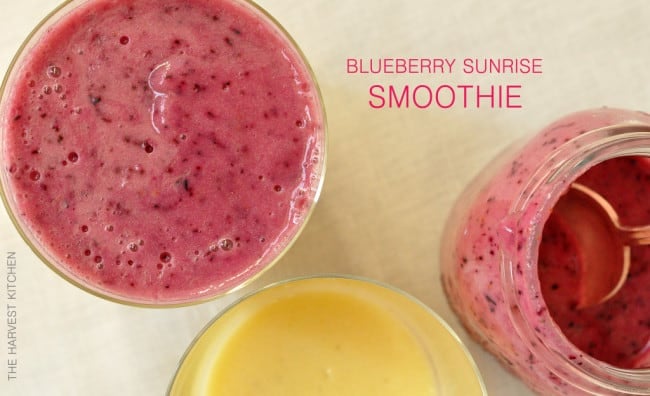 [1]
According to Dr. Daniel Amen (I forget which of his books I read this in), we should try to eat a handful of blueberries every day.  It's good brain food!!  I will typically either toss a fistful of blueberries into a salad, or add them to my yogurt with some granola, or I'll add them to a smoothie….such as with this Blueberry Pineapple Smoothie.  I prefer to go with an unsweetened hemp milk or a nut milk when making fruit smoothies to avoid a sugar rush, but if you'd rather – you could blend this smoothie with coconut water instead.  If you do, just eat a fistful of almonds with your smoothie to help keep blood sugar levels from spiking.
Have a GREAT Sunday all!!!
~ Deb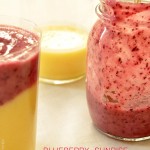 Blueberry Pineapple Smoothie
Yield: 2 servings
Total Time: 15 minutes
Ingredients:
2 cups fresh organic pineapple, cut into chunks
1 cup frozen organic banana
1 cup fresh organic mango, cut into pieces
1-1/2 cup plain unsweetened hemp milk (you can substitute with your favorite nut milk)
2 teaspoons pure vanilla extract
1 cup fresh organic blueberries
Directions:
Place the pineapple, banana, mango, hemp milk and vanilla extract in a blender and blend until smooth.
Pour half of the mixture into glasses filling each only half way.
Add the blueberries to the remaining mixture in the blender and blend until smooth.
Carefully pour the blueberry mixture over the back of a spoon onto the pineapple mixture in the glasses.
Blueberries are a powerhouse superfood containing antioxidant and anti-inflammatory compounds that help to ward off major disease like Alzheimer's, diabetes, heart disease, and some types of cancer.  The compounds in blueberries also help keep our memories sharp.  Blueberries are the ultimate memory food.
Pineapple is good for digestion, speeds up wound healing, and reduces inflammation, and it's a natural blood thinner.  One cup of pineapple contains 100 percent of the Daily Value for manganese, which is an essential trace mineral necessary for healthy skin, bones and cartilage.
Mangoes are known as the "king of fruit", and they contain a high percentage of water.  Mangoes are packed with potassium, vitamin A and beta-carotene.
Bananas offer a rich source of potassium and fiber (3 to 4 grams of fiber per banana).  Potassium is important for maintaining fluid and electrolyte balance and a regular heartbeat.   A decrease in potassium levels can make you weak and tired and is often connected to muscle cramps.
Source:  "The 150 Healthiest Foods on Earth" by Jonny Bowden, Ph.D.