Blueberry Chicken Salad
Yum
This Blueberry Chicken Salad is crisp and crunchy, juicy and flavorful, and tossed in a completely addicting Rosemary Lime Vinaigrette!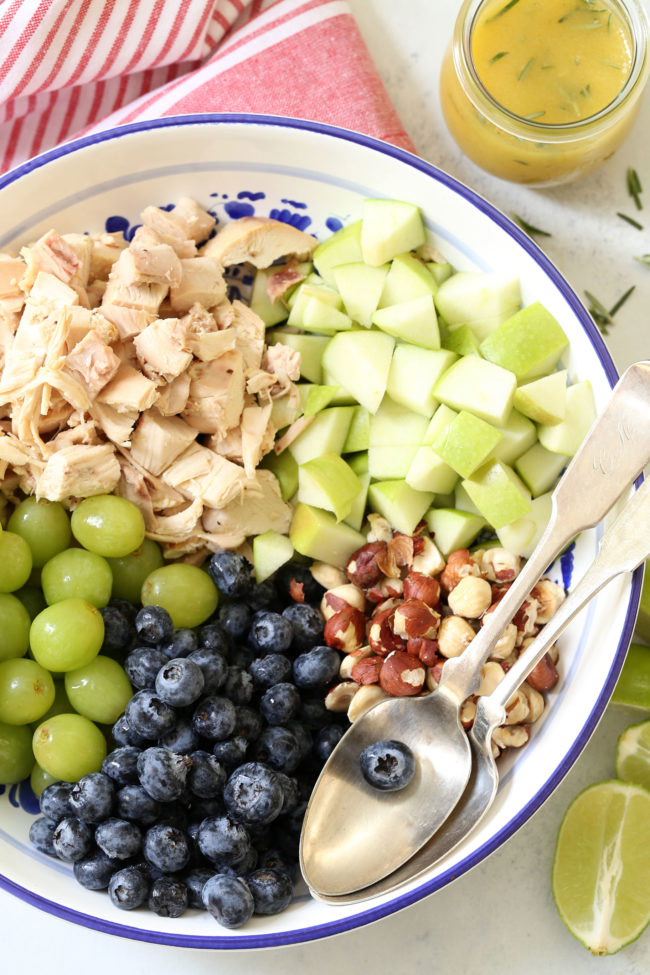 When I first read the ingredients for this Blueberry Chicken Salad…I thought the combination sounded rather odd in an "curious"  sort of way.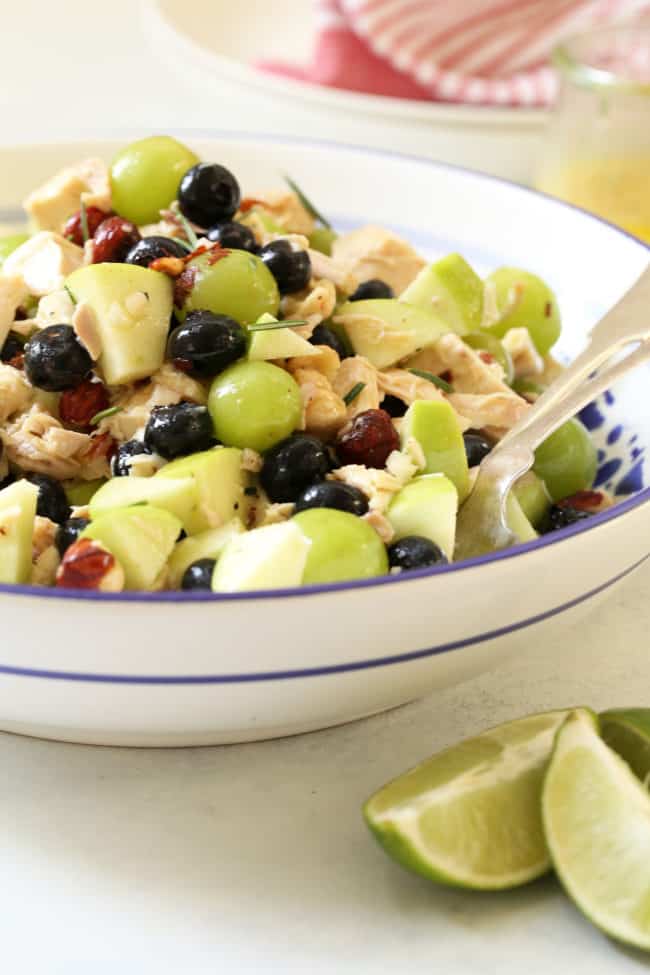 Some of the ingredients in this fruity salad may sound a bit mismatched…but was I ever surprised at how well they work together.   This salad is tangy, tart, earthy and sweet….and seriously completely addicting.  The slightly adapted recipe for this Blueberry Chicken Salad (with apples, grapes and hazlenuts) comes from  "The Marshall Field's Cookbook".  The recipe also called for 1/2 cup blue cheese…but I couldn't do that to this salad.  Not a blue cheese fan at all.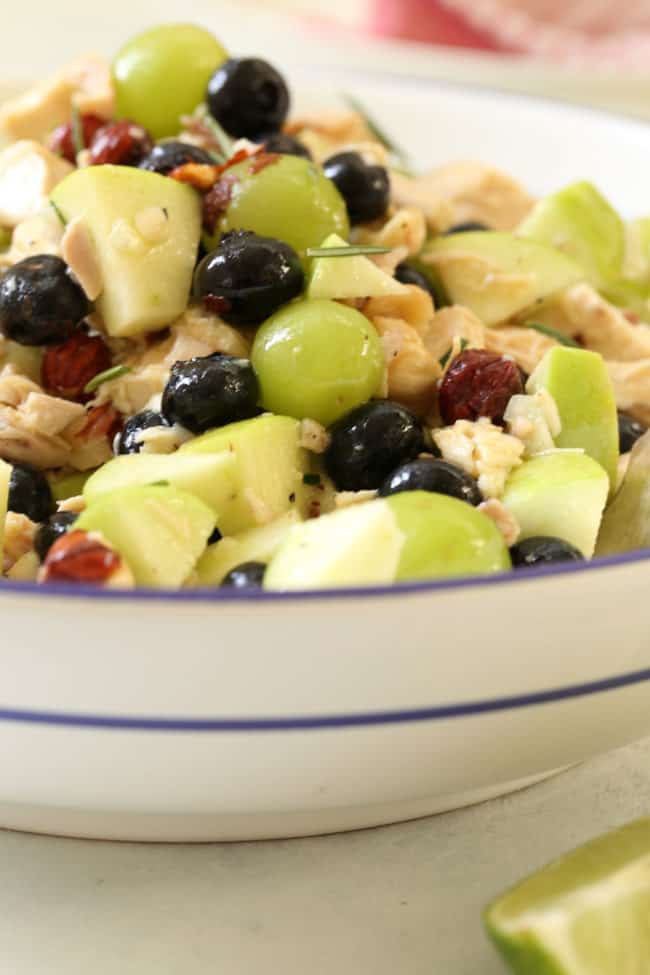 Did you know that rosemary contains substances that stimulate the immune system.  Rosemary also contains anti-inflammatory compounds, and it has been shown to increase the blood flow to the head and brain, improving concentration.  Just thought you might be interested in knowing!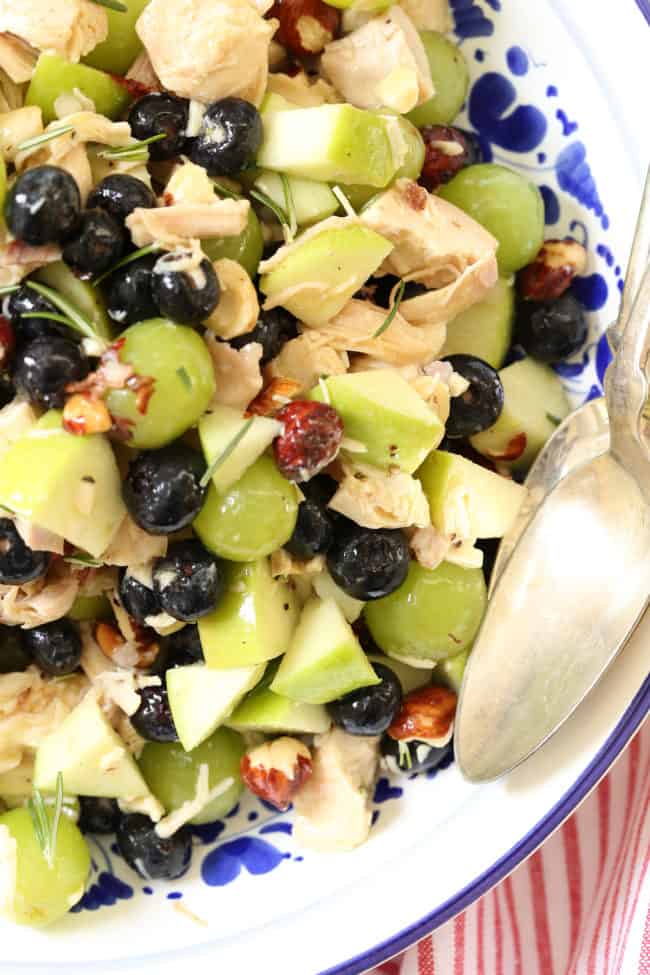 Friends, you will absolutely love this Blueberry Chicken Salad!!  There's so much to love about it!
And – this is a re-post with updated photos.
~ Deb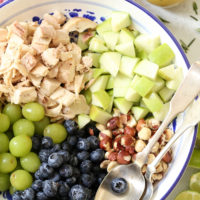 Blueberry Chicken Salad
Yield: 6 servings
Total Time: 20 minutes
Ingredients:
1 roasted chicken (store roasted works for me), meat torn into bite-size pieces (about 3 cups)
1 large Granny Smith apple, cut into 1/4 inch slices
1-1/2 cups green grapes
1-1/2 cups blueberries
1/2 cup hazelnuts, toasted, skinned, and coarsely chopped
For the vinaigrette:
2 teaspoons Djon mustard
2 tablespoons minced shallot
2 tablespoons honey
4 tablespoons freshly squeezed lime juice
1 teaspoon kosher salt
1/2 teaspoon freshly ground black pepper
1 tablespoon minced fresh rosemary leaves
1/4 cup olive oil
Directions:
In a small bowl, whisk together the mustard, shallot, honey, lime juice, salt, pepper, and rosemary. Slowly whisk in the olive oil.
In a large bowl, combine the chicken, apple, grapes, blueberries, hazlenuts, and toss well.
Pour the vinaigrette over the salad and toss well to coat evenly.
2 Responses to "Blueberry Chicken Salad"
Leave a Comment