Beet Ginger Detox Juice
Juicing is a great way to incorporate fruits and vegetables into your diet.  This delicious Beet Ginger Detox Juice will nourish your body and help rid it of toxins.    Personally, it's my favorite juice blend!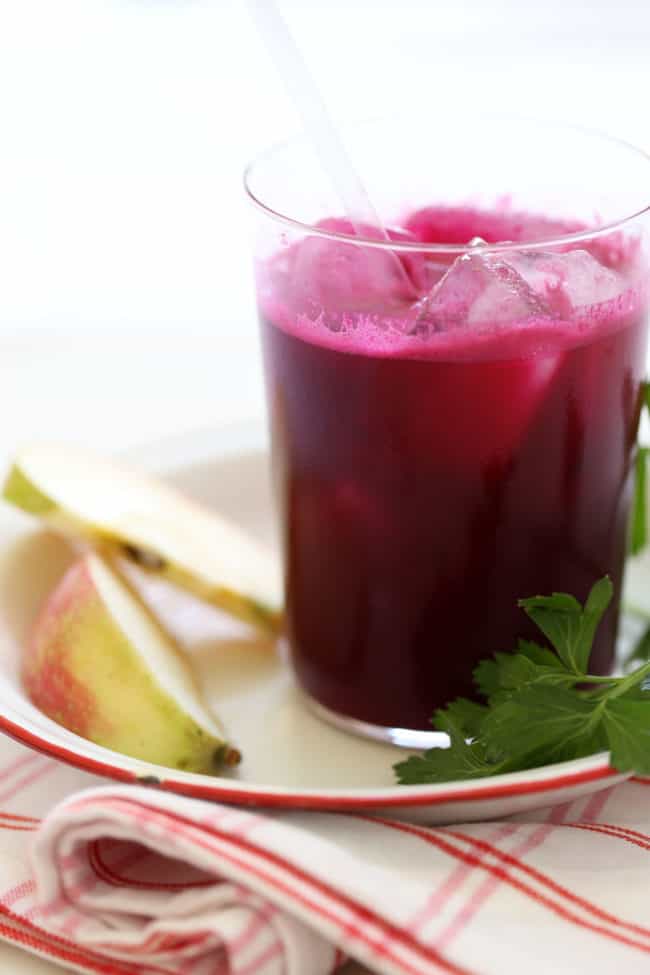 [1]
Beet juice is a powerful cleanser and highly nutritious. Apples, a whole lemon, fistful of parsley and ginger are juiced with a couple beets to create this deep red elixir.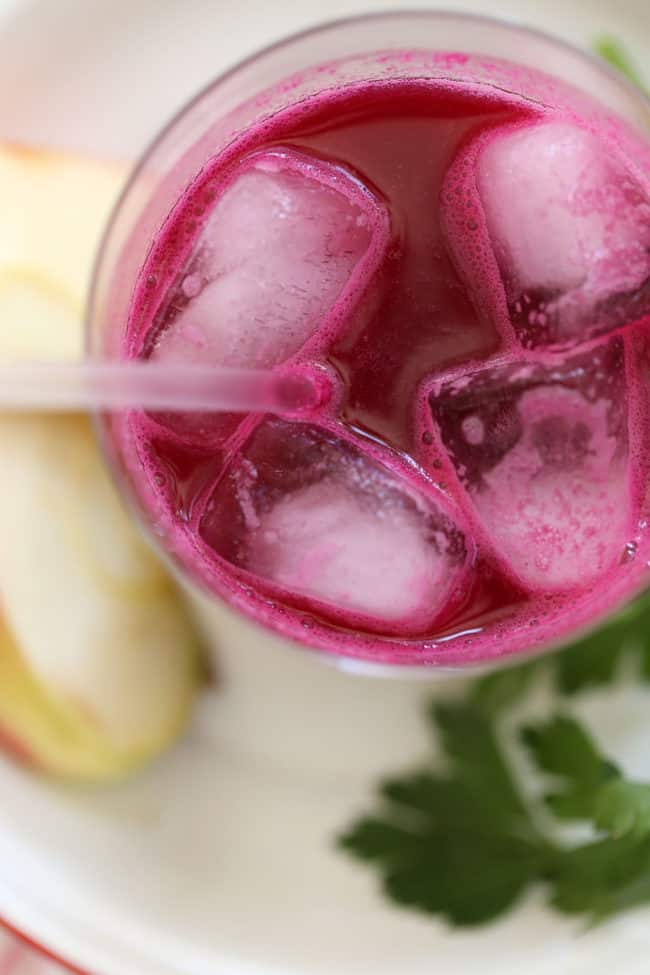 [1]
This is an update of a previous post.  I posted the recipe for this juice blend awhile back, but wanted to freshen thingssup with a few new photos and a slightly updated recipe.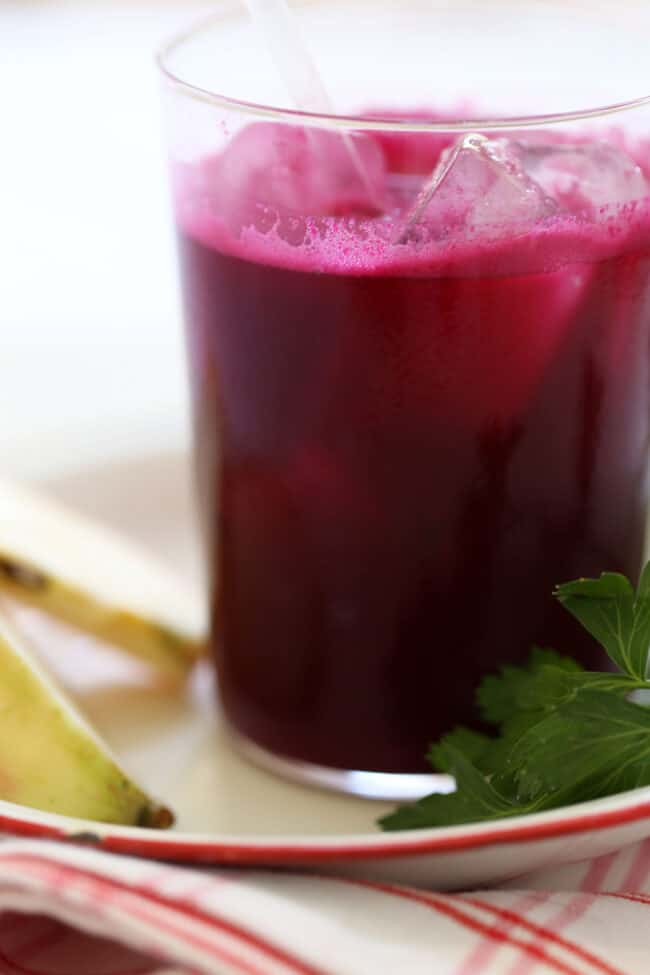 [1]
Mother's Market is a local health food store that I've been shopping at since I was a young mom. They've been around long before Whole Foods ever opened their first door. My favorite garlic hummus comes from the Mother's deli section (it's the creamiest hummus I've ever had), and I love their juice bar.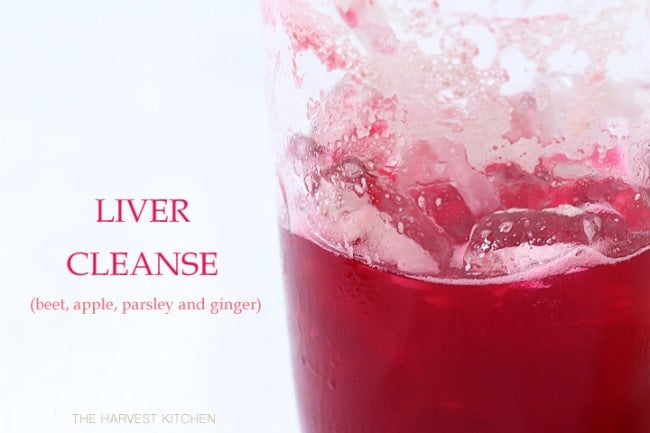 [1]
The other day my son (Kyle) brought me a freshly juiced concoction from Mother's that they call their "liver cleanse".  He and I are both completely obsessed with this drink now.
[1]Beets have been shown to provide antioxidant and anti-inflammatory benefits. Chronic inflammation can lead to cancer, heart disease, Alzheimer's disease, etc. Beets also contain lutein and zeaxanthin which offer support for eye health. Betalains are the reddish pigments found in certain fruits and vegetables – such as beet root. Betalains assist the body in neutralizing toxins and support the natural detoxification process.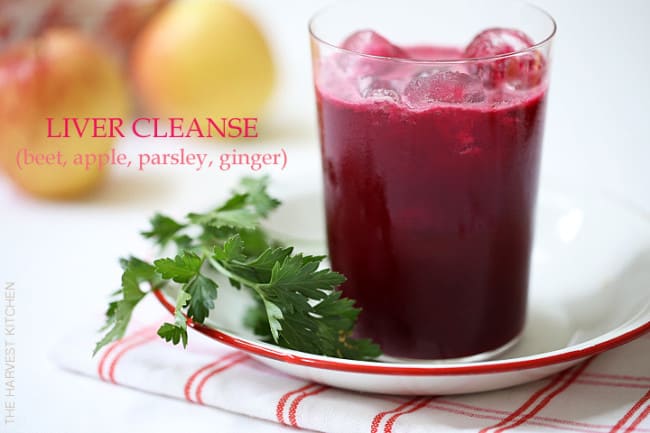 [1]
Here's the top 6 benefits of beet root:
Improves Blood Flow
Reduce Blood Pressure
Detoxifies The Liver
Helps with Iron Deficiency and Anemia
Good for Muscles (may increase muscle strength)
Treats Inflammation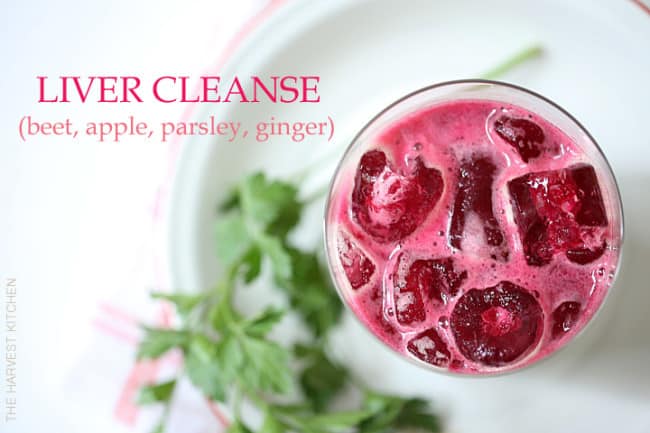 [1]
An apple a day keeps the doctor away.  Right!?  Apples provide important polyphenols (quercetin), they offer antioxidant, anti-cancer and cardio benefits, and they help regulate blood sugar.  The apples in this liver detox give it its sweetness.  As for parsley,  I wrote about the benefits of parsley here [2], so I won't repeat myself -but it assists in the detox process as well.  As for ginger, ginger is another potent anti-inflammatory that offers protection against colorectal cancer, it possibly induces cell death in ovarian cancers, and it gives a boost to your immune system.  The added whole lemon to this mix gives a huge boost to the detoxifying benefits of this drink!
For you athletes – this is great pre work-out drink to give you a boost of energy!
Hands-down this is my favorite detox drink recipe of all time!
Enjoy!
~ Deb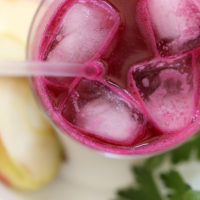 Beet Ginger Detox Juice
Yield: 1-2 servings
Total Time: 10 minutes
Ingredients:
2 large raw beets, peeled
3-4 large Gala or Honeycrisp apples
2 inch piece of fresh ginger, peeled
a large fistful of organic parsley
1 organic lemon, juiced
Directions:
Place all of the ingredients in the juicer and juice.