Baked General Tso's Cauliflower
Yum
This Baked General Tso's Cauliflower is easy to make, super delicious and every bit as spicy-sweet and crispy-good as a fried version.  Serve it as a vegetarian main dish, a side dish or as a fun appetizer.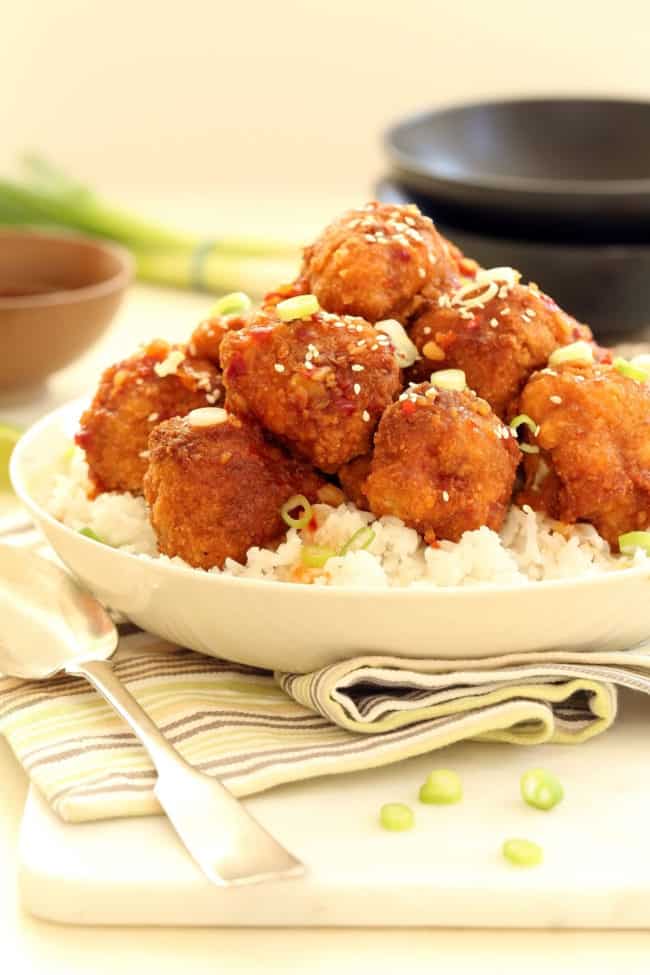 This Baked General Tso's Cauliflower is lightly battered then baked to a golden-brown and tossed in a delicious spicy-sweet sauce.   It's easy enough to make any night of the week!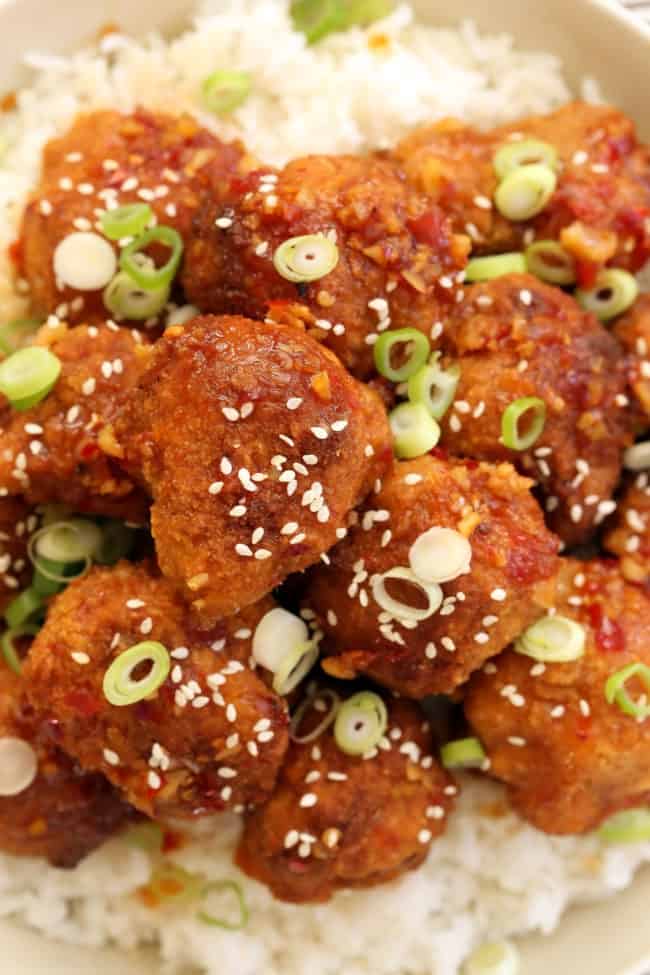 Even though there are a few steps to completing this recipe….it all comes together relatively effortlessly and in pretty short-order. The result is absolutely delicious!!  This Baked General Tso's Cauliflower is a vegetarian version of the popular General Tso's Chicken recipe, which is typically a fried dish.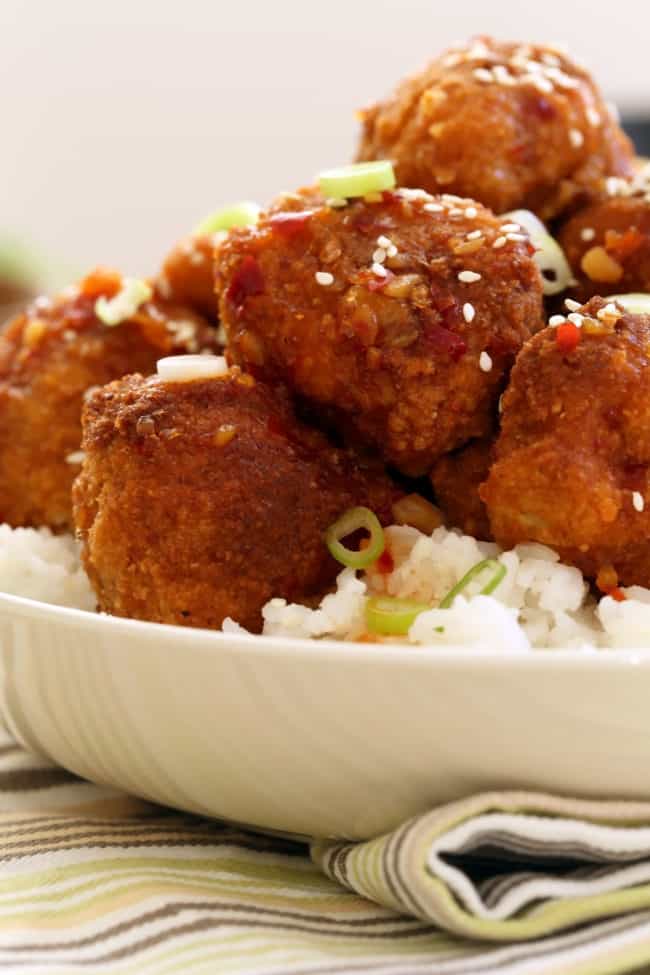 The first time I had cauliflower made this way was when Kyle ordered the "crispy cauliflower" at Veggie Grill, which was served with a delicious dipping sauce.  When I make this recipe, I like to double the sauce so I can have extra for dipping.
Serve this crispy baked cauliflower on a bed of rice, or with this Pineapple Coconut Quinoa, or this Cilantro Lime Quinoa.
~ Deb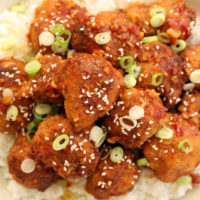 Baked General Tso's Cauliflower
Yield: Serves 2 - 4
Total Time: 30 minutes
Ingredients:
1 large head cauliflower, cut into large florets
1 cup gluten-free all-purpose flour
1 cup coconut milk
1 cup gluten-free panko bread crumbs
pinch of sea salt
pinch of freshly ground black pepper
For the Sauce
2 teaspoons sesame oil
6 scallions, white part finely sliced
3 cloves garlic, peeled and finely minced
1 tablespoon fresh ginger, finely minced
¼ cup vegetable broth (or chicken broth)
¼ cup soy sauce
3 tablespoons rice vinegar
3 tablespoons sugar
1 tablespoon cornstarch
1/4 teaspoon dried red chili pepper
Serve with steamed rice or quinoa Garnish with sesame seeds and green onions
Directions:
Preheat oven to 400º.
Dredge cauliflower in flour, milk, and bread crumbs and transfer to a baking sheet lined with a rack or a parchment paper.
Season with salt and pepper.
Bake until deeply golden and crispy, 20 to 30 minutes.
Remove from oven and add to a medium size bowl
Meanwhile, make sauce
For the Sauce
In a medium pot, heat the sesame oil over medium heat. Add the finely-chopped white scallions, garlic, ginger and cook until fragrant, 1 to 2 minutes.
 Add the broth, soy sauce and rice vinegar and bring to a simmer over medium heat.
Simmer for 5 minutes.
In a small bowl, whisk the sugar and cornstarch to combine. Pour about ¼ cup of the hot sauce over the mixture, whisking constantly until the mixture is smooth.
Return the mixture to the pot and bring to a simmer.
Cook, stirring occasionally for about 7 to 9 minutes or until the sauce thickens.
Pour the sauce over the baked cauliflower and toss to coat.
Serve immediately, garnished with sesame seeds and more sliced green onions if you like.
Leave a Comment