Asian Quinoa Salad
Yum
This Asian Quinoa Salad is light and fresh tasting and super quick and easy to make.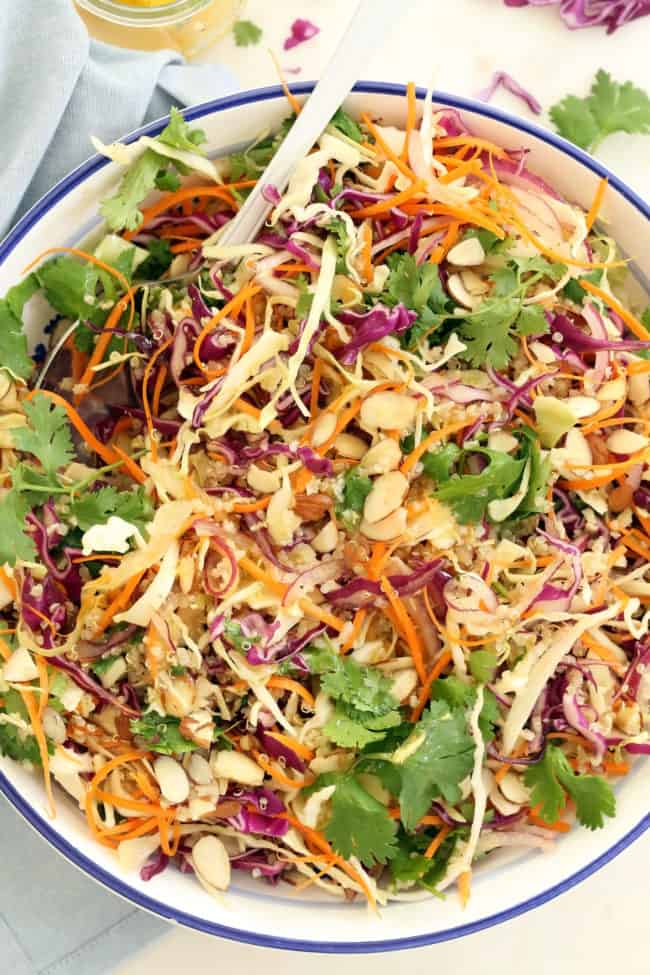 This Asian Quinoa Salad makes for an easy side dish or a light meatless meal.  It's also great with some shredded chicken for added protein.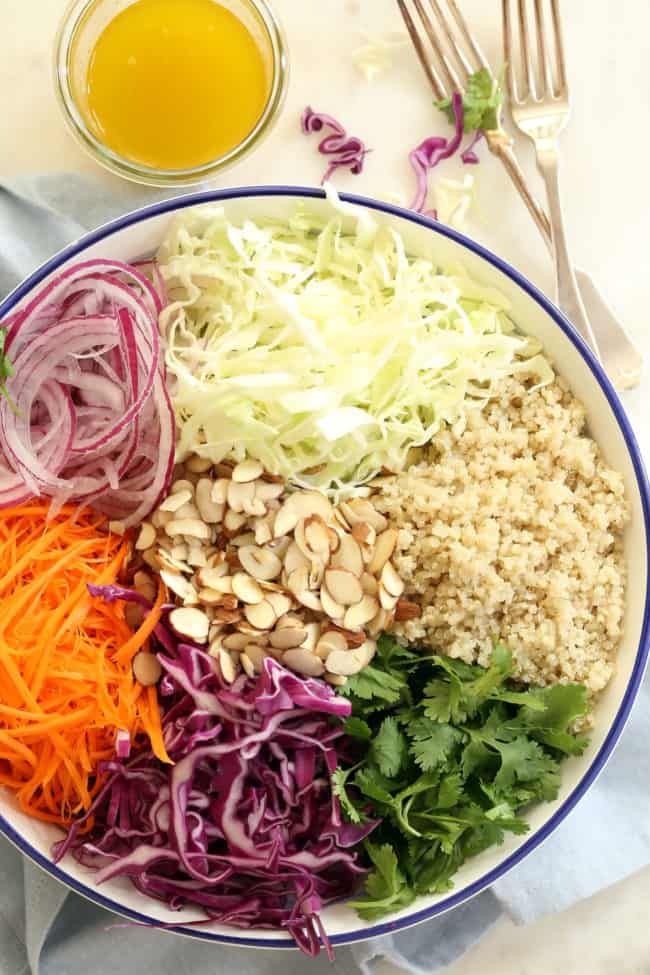 This Asian Quinoa Salad is fresh, light, and perfect as a side dish or a light meal. It travels well, so it's perfect to take along to a barbecue or potluck. Even though we're heading into soup weather, it's still pretty toasty here in Orange County and feeling very much like summer. So I'm still in the mode of eating light and easy meals like this Asian slaw.  Did summer go by in a blink or what?!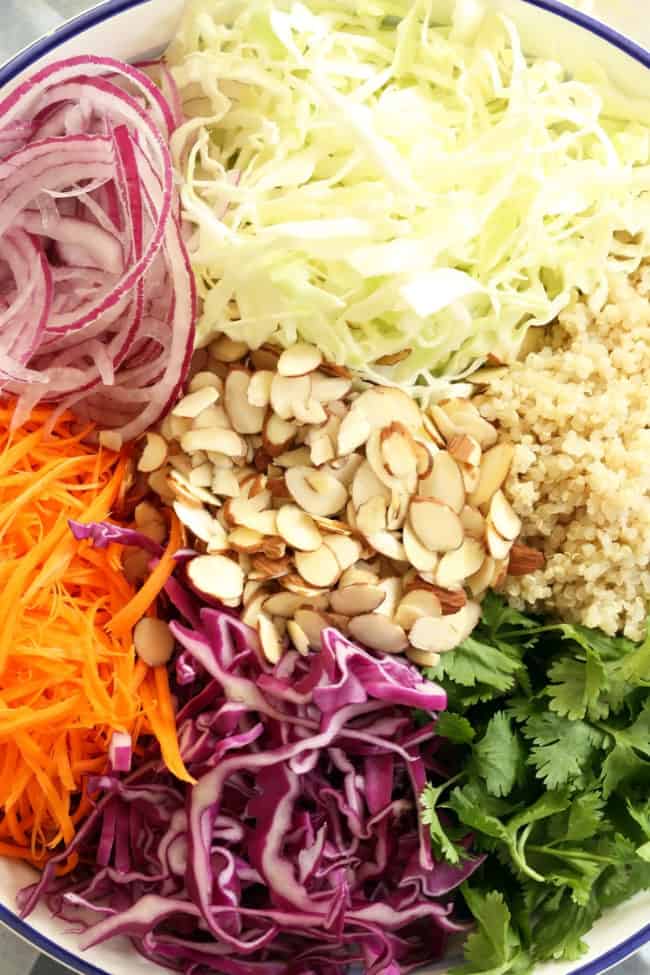 Cabbage is a great source of vitamin C and vitamin B6, manganese, dietary fiber, potassium, vitamin and B1.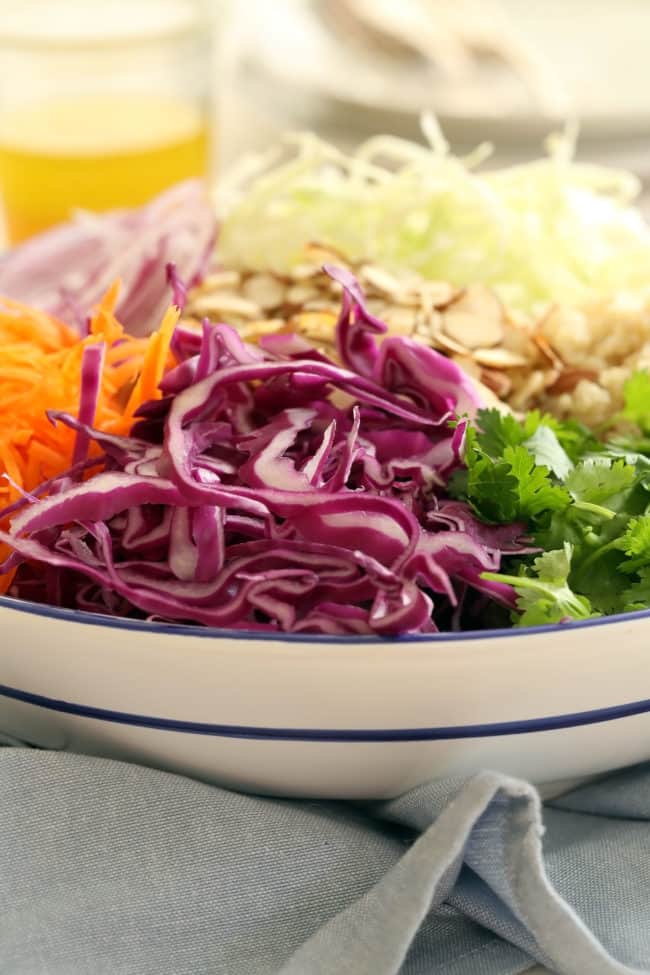 And even though it's not as popular as kale or broccoli, cabbage is a nutrient dense cruciferous vegetable worthy of your attention.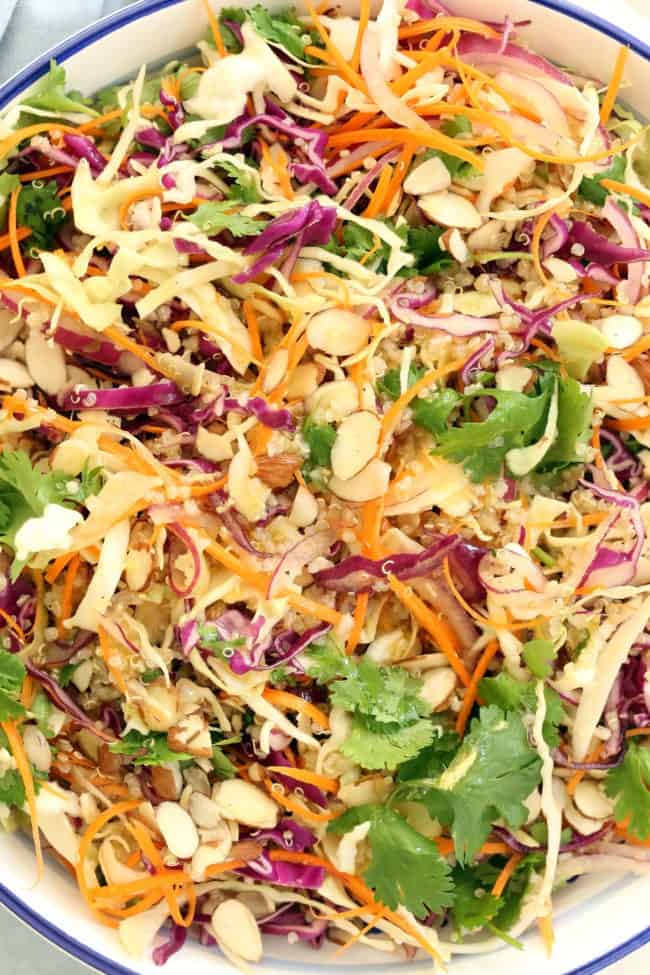 The gorgeous vibrant purple hue of red cabbage (I always call it purple cabbage) comes from anti-inflammatory phytochemicals called anthocyanins.   Cabbage also contains potent antioxidant and anti-cancer compounds called isothiocyanates—chemicals that give a boost to the body's own natural detoxification process. Cruciferous vegetables, such as cabbage, contain phytochemicals that can help remove cancer causing free radicals from the body.  Cabbage is also rich in lutein and  zeaxanthin which help promote eye health.  Cabbage is also a rich source of vitamin K, which is important for bone metabolism and to also help ward-off Alzheimer's disease.
~ Deb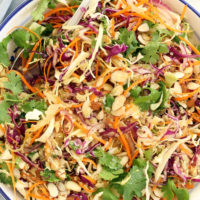 Asian Quinoa Salad
Yield: Serves 6 - 8
Total Time: 20 minutes
Ingredients:
3 cups red cabbage, sliced thin
3 cups green cabbage, sliced thin
1 cup cooked quinoa
1 cup carrot, shredded
1/2 cup fresh cilantro, chopped
1/3 cup almonds, sliced
1/4 cup purple onion, sliced
For the Orange Ginger Vinaigrette
1/4 cup orange juice
1/4 cup extra virgin olive oil
1/4  cup seasoned rice vinegar
3 tablespoons honey or pure maple syrup
2 tablespoons ginger, grated or finely minced
2 tablespoons toasted sesame oil
1  clove garlic, finely minced
Directions:
In a large mixing bowl, combine the cabbage, quinoa, carrots, cilantro, onion and almonds.
Add enough Orange Ginger Vinaigrette to lightly coat and toss to combine.
For the Orange Ginger Vinaigrette
Add the ingredients for the vinaigrette to a mason jar.  Tightly seal the lid and shake to combine.  Or add the ingredients to a bowl and whisk to combine.
Season with salt and freshly ground black pepper to taste.
Refrigerate until ready to use.
Leave a Comment