Acai Bowl
Yum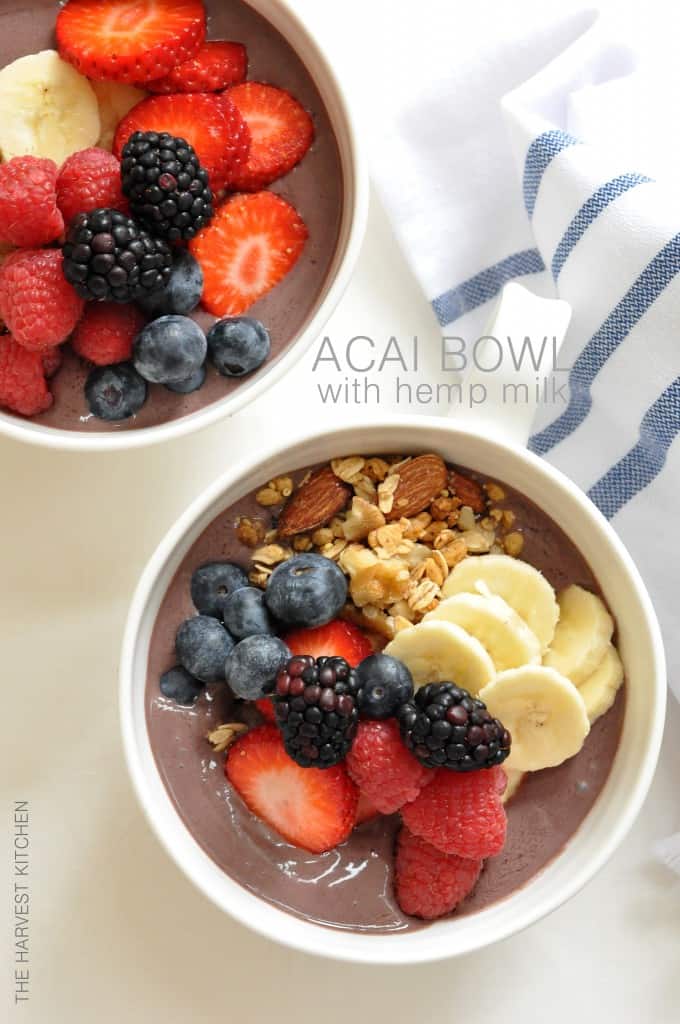 Are Acai Bowls the craze in your neck of the woods?  They are in these parts!   This Acai Bowl is a chilly bowl of nutritional goodness made with a blend of frozen fruit and acai with a little added hemp milk (because I'm completely hooked on hemp milk), and then artfully adorned with fresh berries and bananas, granola and typically coconut.  But I forgot to add the coconut.  Either fresh coconut or shavings of the unsweetened kind will do.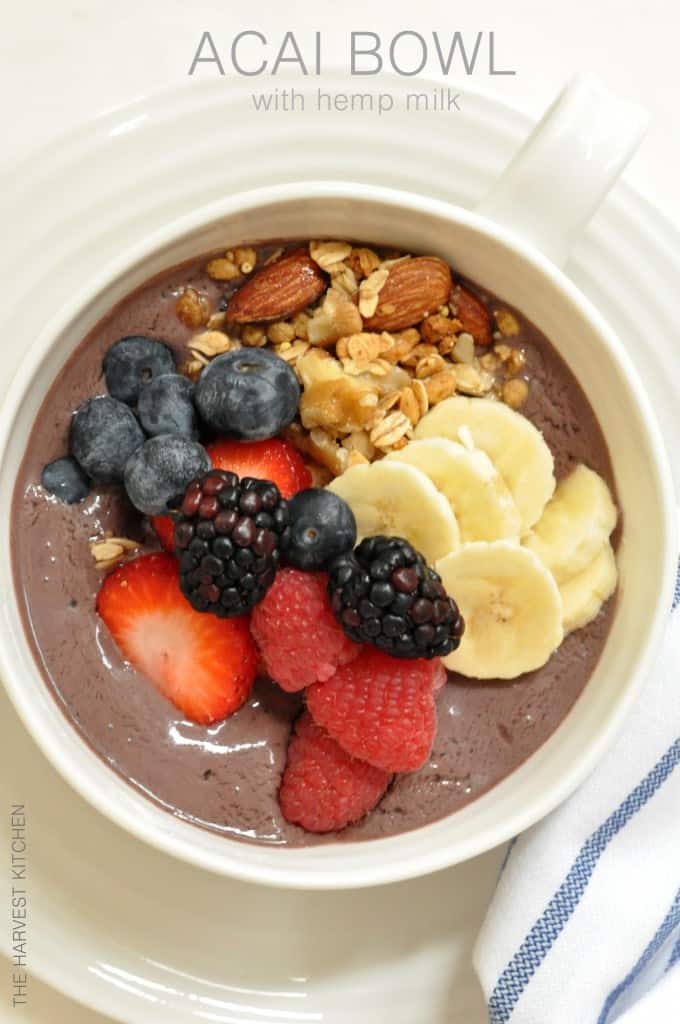 So what's all the acai hype about anyway?  Acai is touted as a superfood, and these potent little berries come from a type of a palm tree that is native to the Amazon rainforest region.  The benefits of acai are numerous!  Acai provides a combination of antioxidants, an almost perfect amino acid complex, and omega fatty acids (similar to olive oil), all of which give a tremendous boost to the immune system, improves cognitive function (keeping the brain as sharp as a tack), promotes cardiovascular and digestive health, and keeps the wrinkles at bay.   In the antioxidant department, acai packs a bigger punch than cranberries, raspberries, blackberries, strawberries, or blueberries.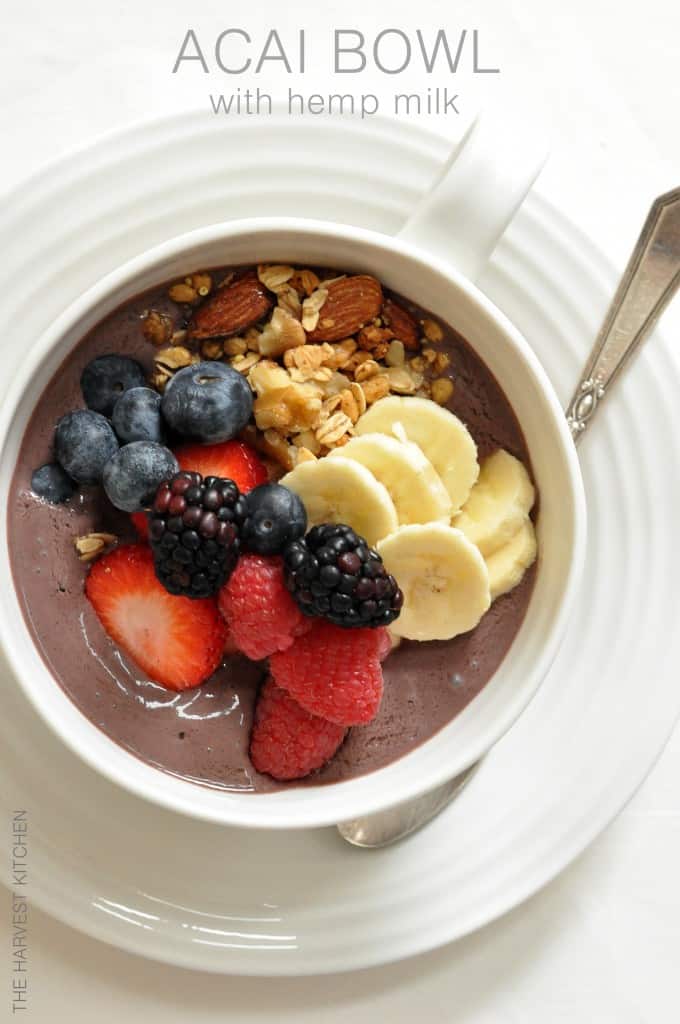 A little noteworty disclaimer….acai isn't really a berry in the traditional sense.  No, acai has a seed in the center (like a cherry or a peach) which makes it a drupe.  Stone fruit sounds prettier than drupe, so let's go with that.
More importantly….how the heck is "acai" pronounced?
Ah sigh eeee
and God bless you!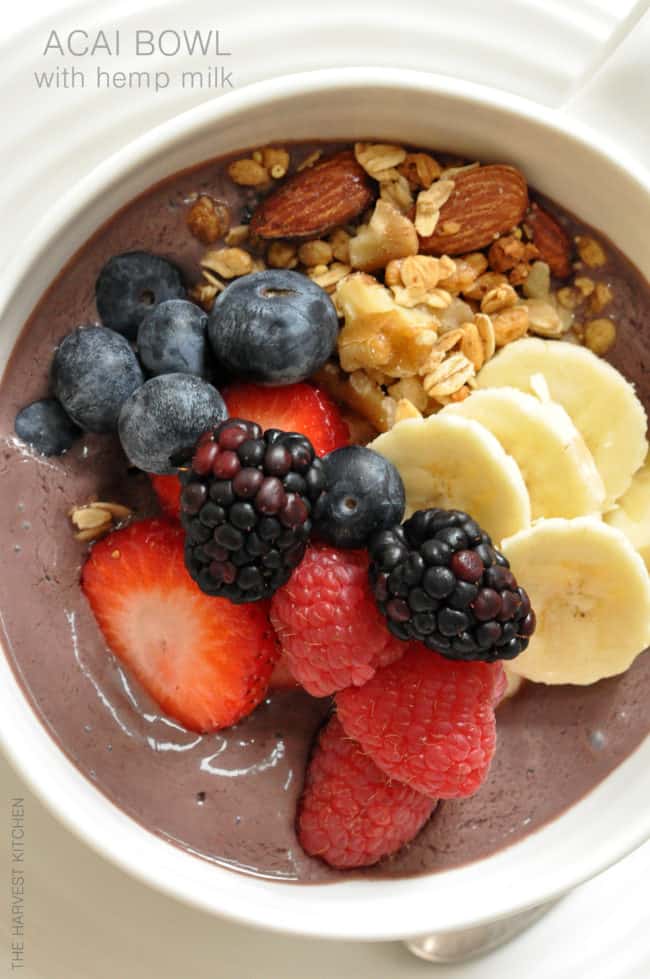 Looking at this photo makes me want to grab a spoon and dig it!
This delicious Acai Bowl of goodness is a great way to start your day or have it as a mid-afternoon snack, or serve this gem on a warm evening for dessert.
A little shout out to Kyle, since he's the one who first got me hooked on Acai Bowls.  There's a place near his work that makes great Acai Bowls and he'll have one for breakfast several times a week.  He said this one looks just as good as the bowls he gets.
Minus the coconut of course.
~ Deb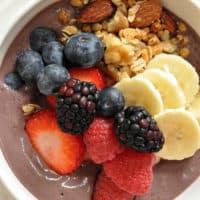 Acai Bowl
Yield: 2 servings
Total Time: 10 minutes
Ingredients:
For the Acai Bowl
2 packets frozen acai
1/2 banana
1/4 cup frozen mixed berries
3/4 cup unsweetened hemp milk
For the Topping
1/2 cup mixed berries (to garnish)
1/2 cup banana, sliced
1/2 cup granola with nuts
1/4 cup shaved unsweetened coconut
Directions:
Blend the acai, banana, frozen berries and hemp milk in a blender or NutriBullet until smooth.
Top with berries, banana, granola and coconut (or your favorite toppings)
Leave a Comment