A Healthy Date Shake
Yum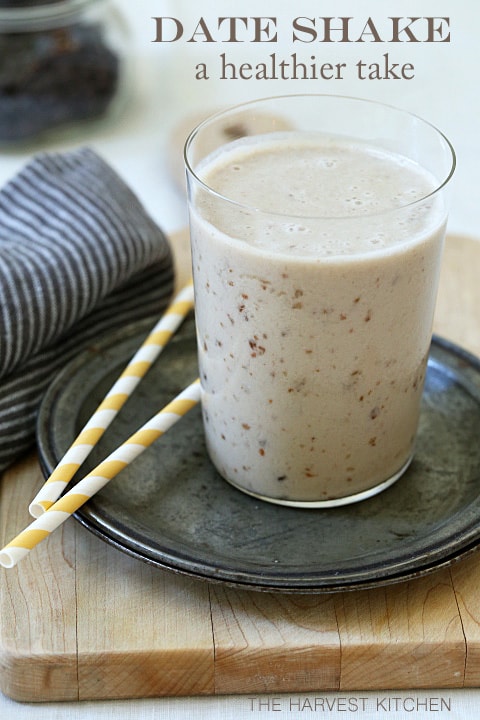 When I make shakes, I feel "less is more" when it comes to sweetness.  I don't like things too sweet and I don't like them too heavy.  I like things light – both in sweetness and flavor.  This Healthy Date Shake is no exception.  I've kept things on the lighter, less sweet side here – but if you prefer things a little sweeter with flavors that are a little more distinct, then just add some more dates, peanut butter and/or cacao nibs.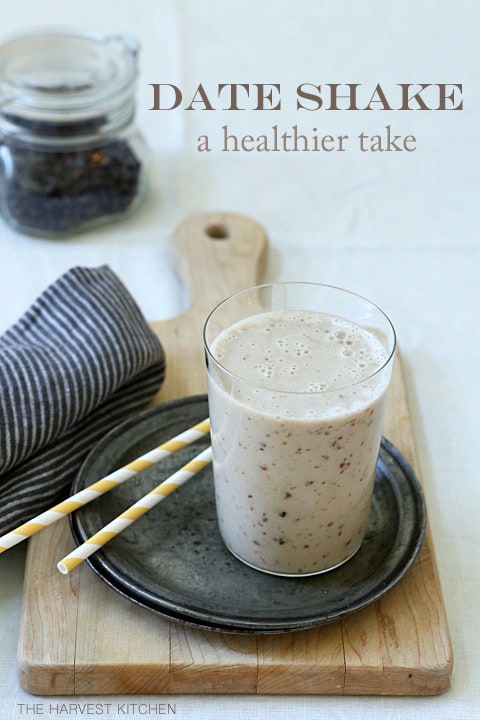 One of my earlier recipes that I posted just happened to be riff on Shake Shack's Date Shake, which was complete with ice cream, whipped cream and a cherry on top.  Well… I don't eat like that at all any more, but I still like the flavor of a Date Shake, and I think this Healthy Date Shake tastes better than the ice cream (high sugar and cholesterol) version.  And it's certainly much healthier for you.  If you want to add a little flavor to this Date Shake, just add a little peanut butter and caco nibs.  Your kids will love it (and the big kid in you will also!).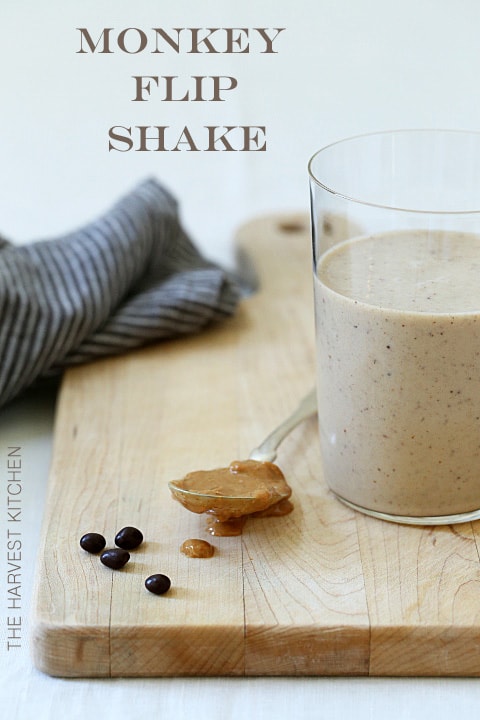 I usually have a carton of Medjool dates on hand.  I love dates (although I don't remember loving them when I was a kid), and I like to chop them up and add them to salads, like this Macho Salad (which is one of my favorite salads).  Dates provide fiber, iron, potassium and B-vitamins, an lutein and zeaxanthin which is needed for protecting the eyes from developing macular degenration.
I hope you're having a great Sunday, all!
~ Deb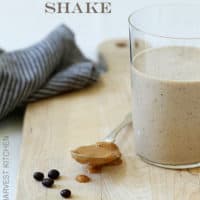 A Healthy Date Shake
Ingredients:
2 cups almond milk (another nut milk or hemp milk work fine)
3 Medjool dates, pitted
2 large frozen bananas, cut into chunks
2 teaspoons natural peanut butter (optional)
10 cacao nibs (optional)
Directions:
Blend all of the ingredients in a blender or NutriBullet for about 30-45 seconds or until the mixture is smooth.  It will be slightly thick and tiny bits of the dates will remain.
Leave a Comment